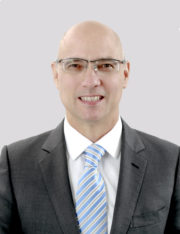 Marc Bosnyak
Mr. Bosnyak is responsible for arranging debt and equity for Estreich and Company's clients as well as creating and maintaining institutional relationships. Prior to joining the firm, Mr. Bosnyak spent nine years at Standard Chartered Bank in Shanghai and Hong Kong, most recently as an Executive Director in the Commercial Real Estate Banking group. At Standard Chartered Bank, Mr. Bosnyak focused on global private equity firms doing business in Greater China, developed relationships with senior levels in New York, London, Singapore and Hong Kong and was responsible for portfolio management of the China loan book. In total, Mr. Bosnyak completed over $8 billion in real estate financing.
Prior to working at Standard Chartered, Mr. Bosnyak spent 8 years at Capital Trust in New York and Shanghai, where he was responsible for underwriting and structuring real estate debt products. Marc was also previously with JP Morgan (including heritage banks Chemical Bank and Chase Manhattan) in New York.
Mr. Bosnyak hold a bachelor's degree from the University of Colorado and received a MS in Real Estate Finance from New York University.